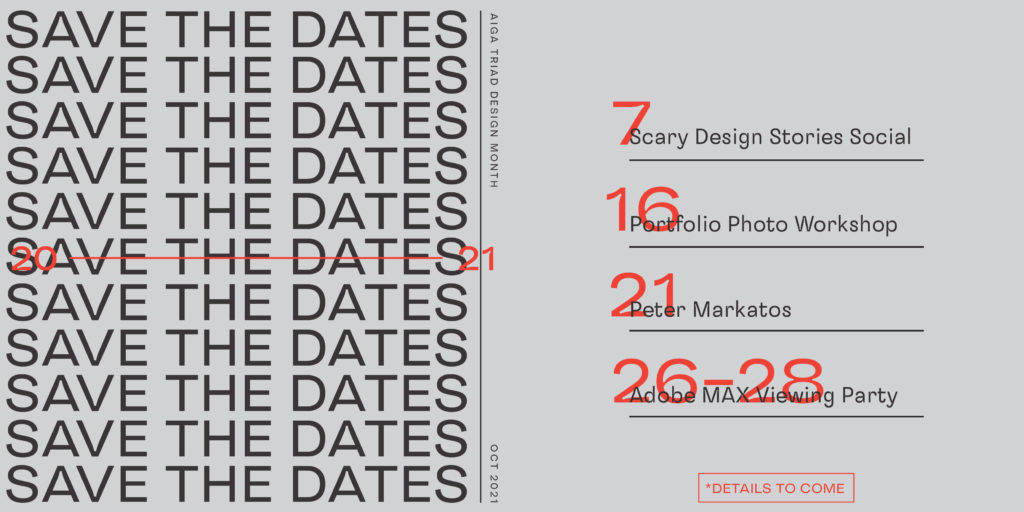 October 7 – Scary Design Stories Social
A time for us to jump into spooky season. Bring your most frightening costume and come ready to share your design horror stories during this haunted social hour.
October 16 – Portfolio Photo Workshop
Learn tips and tricks on lighting and photographing work for your portfolio from one of the best local photographers in the industry. Space will be limited.
October 21 – Peter Markatos: Design Month Speaker
Peter Markatos, currently Chief Design Officer at Quoori, has engaged in a wide variety of Interactive and Branding projects for clients of all industries. He has worked on high-profile projects for companies such as Uber, XBOX, Nokia, Amazon, and Discovery Channel providing design expertise in a variety of disciplines. He was one of the two original designers of the Facebook identity, and works frequently with many of Silicon Valley's leading startups and venture firms.
October 26 – Adobe Max Viewing Party
We're making Adobe Max local. Join us for a viewing party to wrap up design month 2021.